WHY JOIN THE DORRIGO BUTCHER CLUB?
QUALITY
We work closely with the farmers in our region to source the best meat for our customers
VALUE
Get access to our exclusive member deals and free gifts!
CONVENIENCE
Have your box delivered to your door at the frequency you want!
FLEXIBILITY
No contracts - skip, pause or cancel at any time.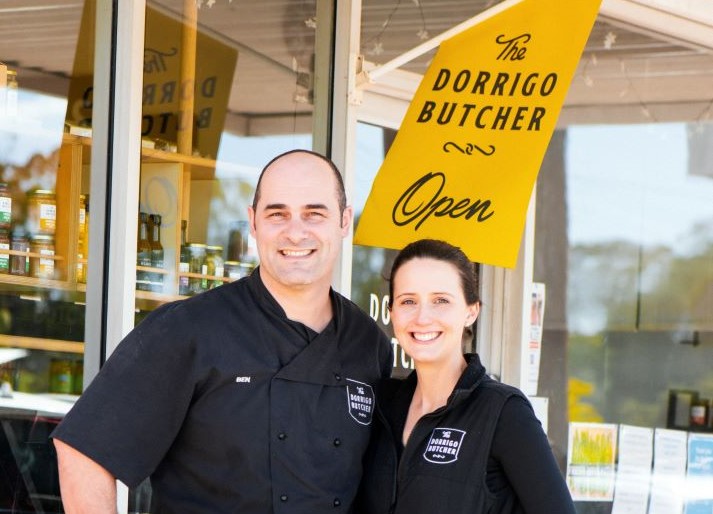 Supporting Our Local Farmers
The Dorrigo Butcher is a locally owned, traditional butcher shop in beautiful Dorrigo NSW. We specialise in high quality, local meat from the Dorrigo Plateau. We are passionate about the high quality produce grown in our region.
SHOP OUR POPULAR BOXES
Do you prefer to pay-as-you-go? You can still shop online with us and get the best local meat and deli goodies delivered directly to your door. You can join The Dorrigo Butcher Club later.
WHAT OUR CUSTOMERS SAY
"Worth the drive for excellent quality meat and more. The T Bones were so tender and full of flavour, paired nicely with the black truffle mustard. Couldn't stop eating the brisket bacon for breakfast. Awesome. Know for the snags on the barbecue. Great quality and a good price."

- Chris

"What exceptional service! I was catering for a BBQ event, and after speaking with the butcher we came away with exactly what we needed at a very fair price. Additionally, every single guest commented on the amazing quality of the steak! Thanks again for everything."

- Lucy

"The delivery arrived at the designated time and we are very impressed with the packaging and, in particular, the quality, serves cuts/sizes. We look forward to doing business with you in the future."

- Ron

"Just got my first Dorrigo Butcher Lamb Box through Good Life Beef, the quality and flavor blew me away. It was package in individual cuts and arrived in perfect condition all the way to North Queensland. Lock me in for ongoing orders."

- Col

"Straight up with salt and pepper only, it has to be one of the best damn steaks I've ever eaten. Wife had the eye fillet side and the sirloin is melting. Exceptional flavor. Well done to you and the farmer and the beast."

- Pete

"Highly recommend the lamb …sweet & tender."

- Wendy